| Black Mask Thermtec 2 Stack Furnace with Gas Handling Cabinet |
(Sale Unit SU71-01)


CONDITION
Well maintained Fully Operating Semiconductor Oxidation and Diffusion/Annealing Furnace
Specifications
3 phase 220 VAC, 60 A Max
Max Temp 1200°C Black Max elements
2 X 130mm Quartz Tubes with End Caps
Source end of the Oxidation tube mates with a triple wall injector
3 zone temp control (Load/Center/Source)
Description
Furnace is ideal for R&D and small lot production (up to 200 X 4" wafers). Optional flow-tubes and thermocouples are included for manually controlling feed gases for experimental work.

Perfect for a startup or university with technical skills to take some technical responsibility and save money over buying new.

Furnace Details:
Top tube for dry oxidation with triple wall gas injector (O2/H2/ThermoCouple)
Bottom tube for diffusion with (N2/O2) feed
(Both tubes are 5" in diameter)
6 Eurotherm Model 810 Controllers
1 ARGUS Model 771 Sequencer timer (programmable with long life battery back-up)
2 HYOXCL 481A
Triple wall custom designed injector for oxidation
Glass accessories:
Cross-Slotted Rail Boat for 200 wafers;
Pull Rods of various lengths;
Boat holder for loading/unloading of wafers from furnace tubes;)
Triple Thermocouple Bundle for temp calibration;
Furnace Center Zone (18" long) flat within 1°C.
Furnace Temp Max: 1200 °C.
Gas Cabinet:
3 Stainless Steel Regulators (O2, H2, N2),
2 Gas Control Boards with three Model FC-260F Tylan Mass Flow Controllers,
(on each board the three FC-260's are calibrated for HCL, O2, H2/N2)
1 TCA (Trichloroethane Bubbler)
(TCA Bubbler shipping container is specially designed to meet the federal
transportation requirements. It is included in the sale price)
(All gas bottles shown in the pictures are EXCLUDED from sale
as they are rented from AIRGAS and will be returned to AIRGAS.)
The furnace is fully operational.
Spares:
Two Brand New Quartz Glass Tube (Back-up for Oxy and Diff Tubes),
ASAHI Techno Glass with source-end modified for oxidation and diffusion in this furnace;
HDPE Tub for automatic Acid Washing of Furnace Quartz Glass Tubes;
two spare injectors; and
two thermocouples for injectors.
It is available for inspection by appointments
Pricing negotiable. Make Offers.
EQUIPMENT PHOTOS
Furnace Oxidation/Diffusion 2 Stack Black Mask Thermtec with Gas Handling Cabinet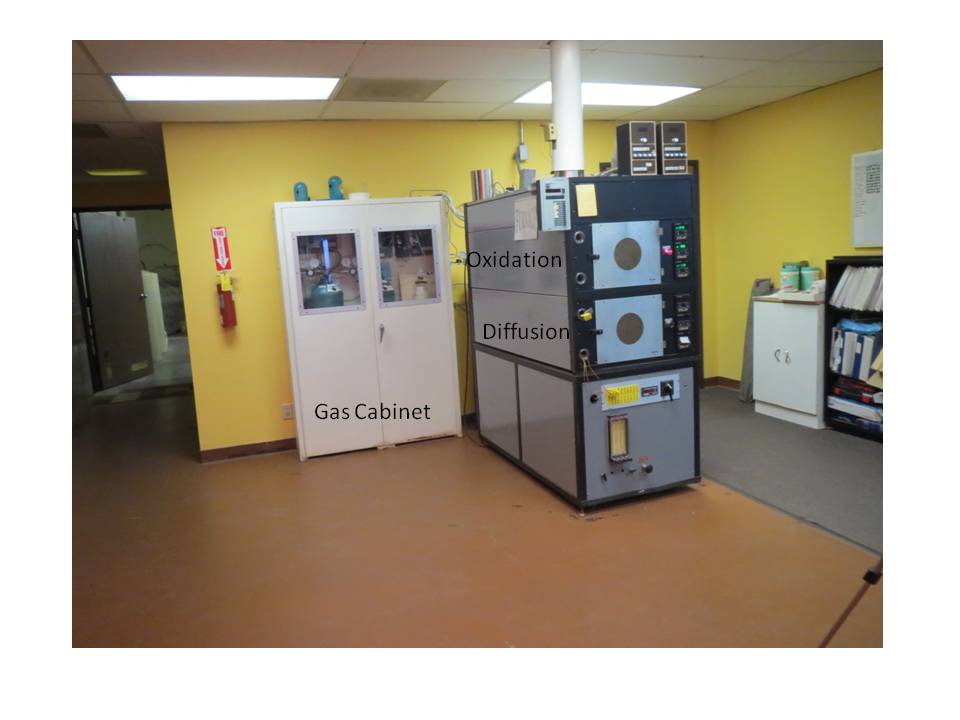 Furnace Load and Source End Views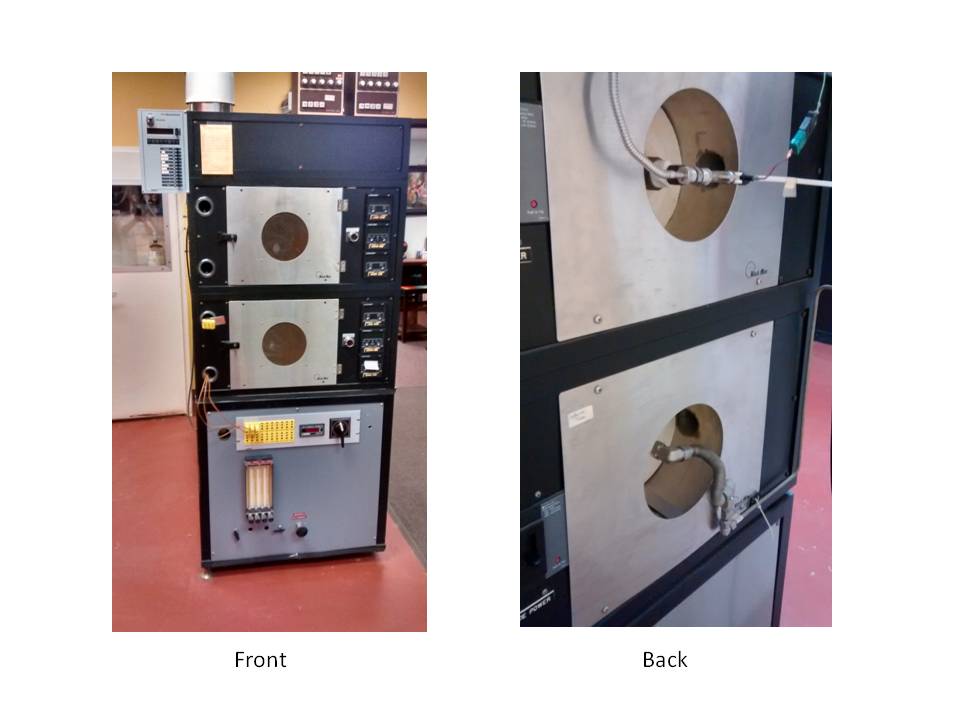 View with Right Side Panels Removed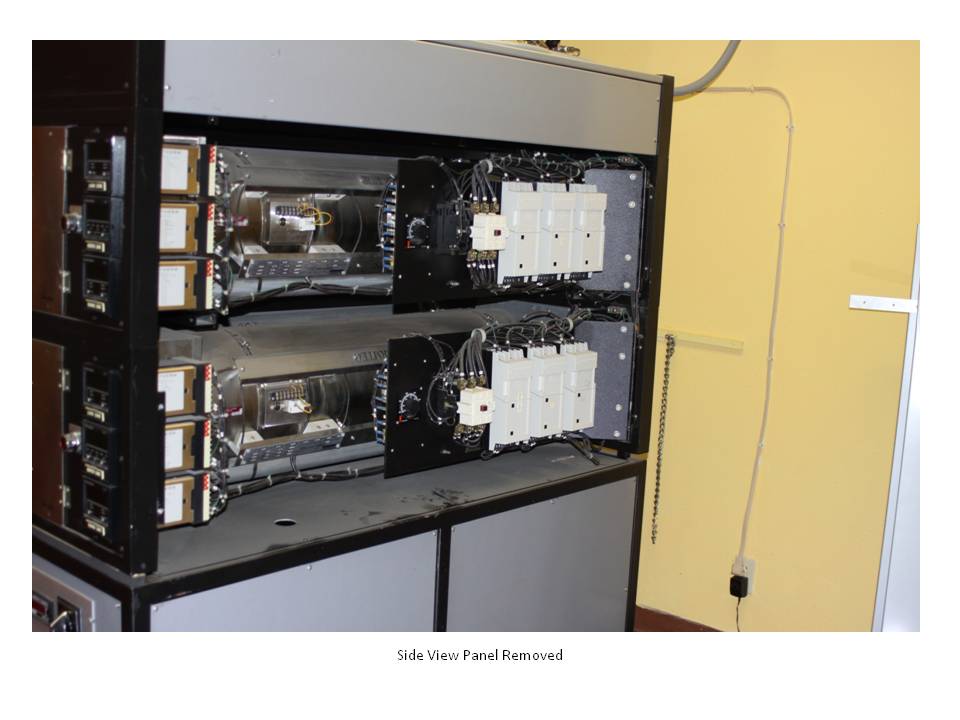 Close Up View with Right Side Panels Removed
Wafers (75) loaded on a boat before oxidation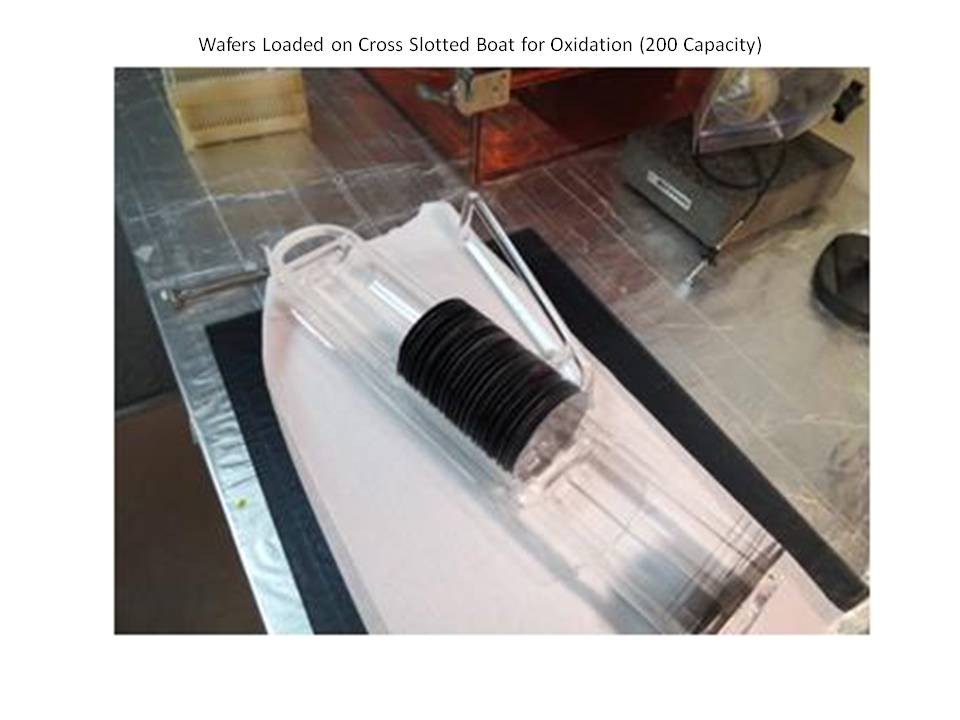 Top Oxidation Tube Heated to Temperature
Furnace Gas Cabinet Plumbing Layout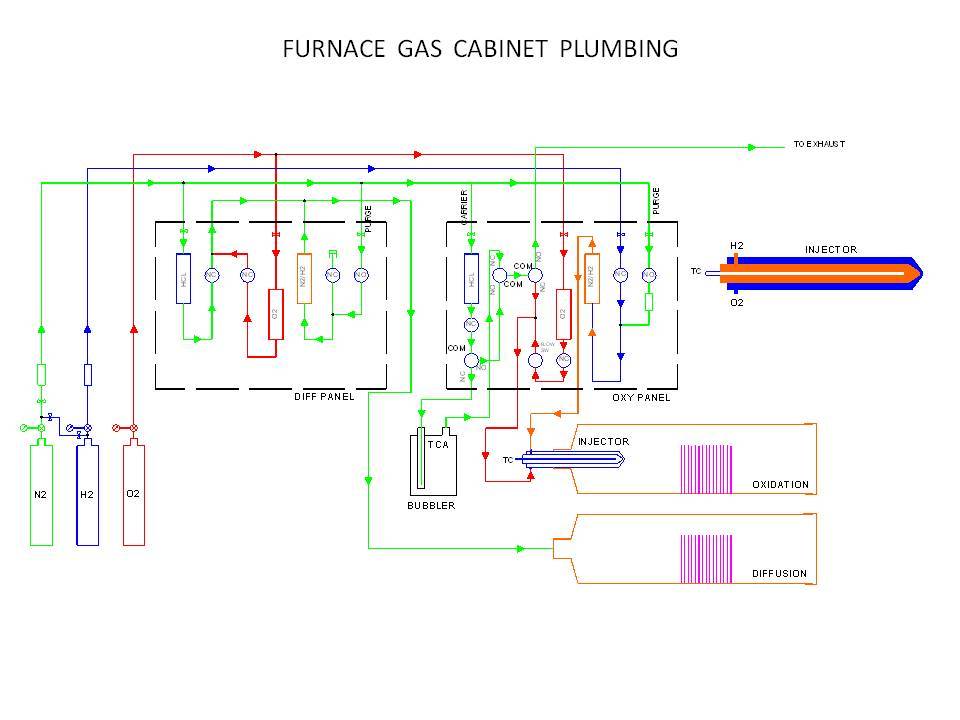 H2 and N2 Bottles inside cabinet, O2 Bottle outside behind the Furnace (Not included in sale)
Diffusion and Oxidation Gas Control Panels inside cabinet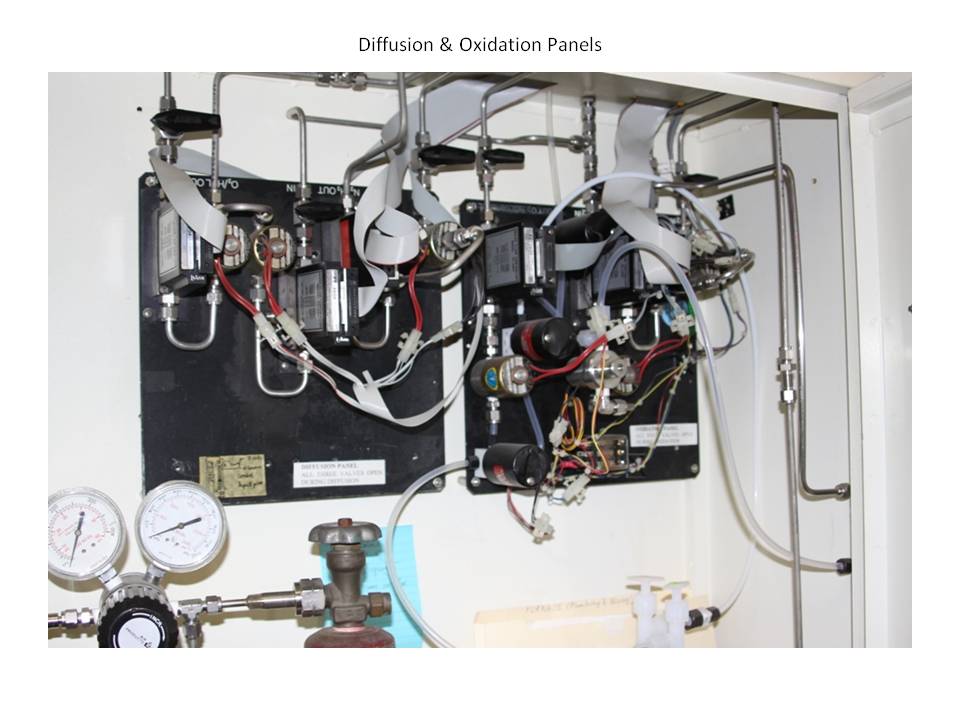 771 Sequencer and Difuusion/Oxidation HYOXCL 481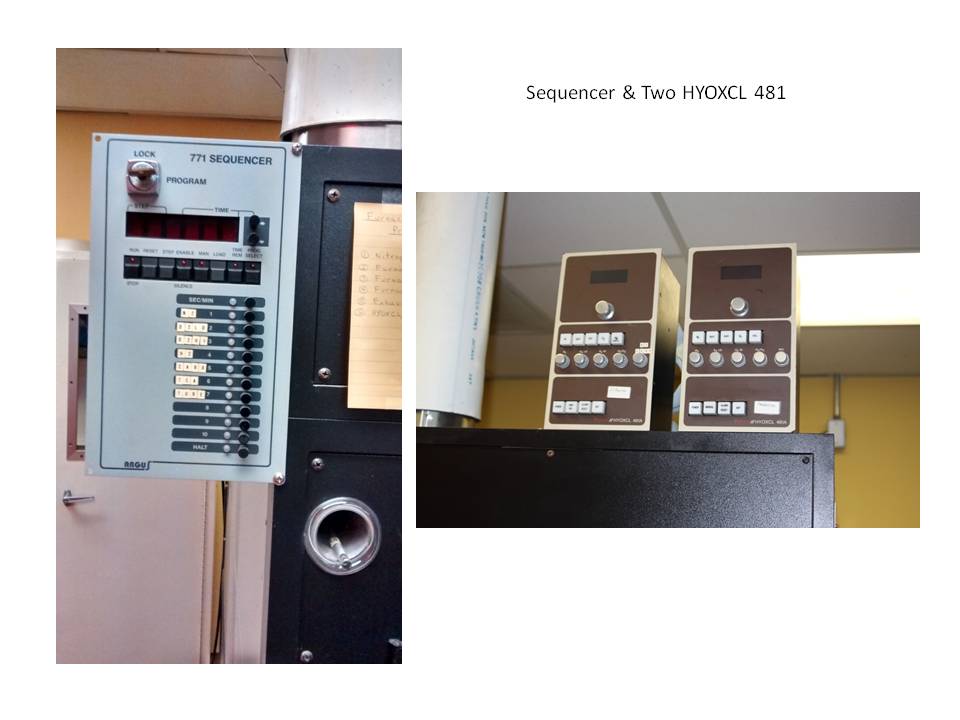 Glassware, Boats(2), New Thermocouples(2), New Injectors(2), New Furnace Tubes(2) not shown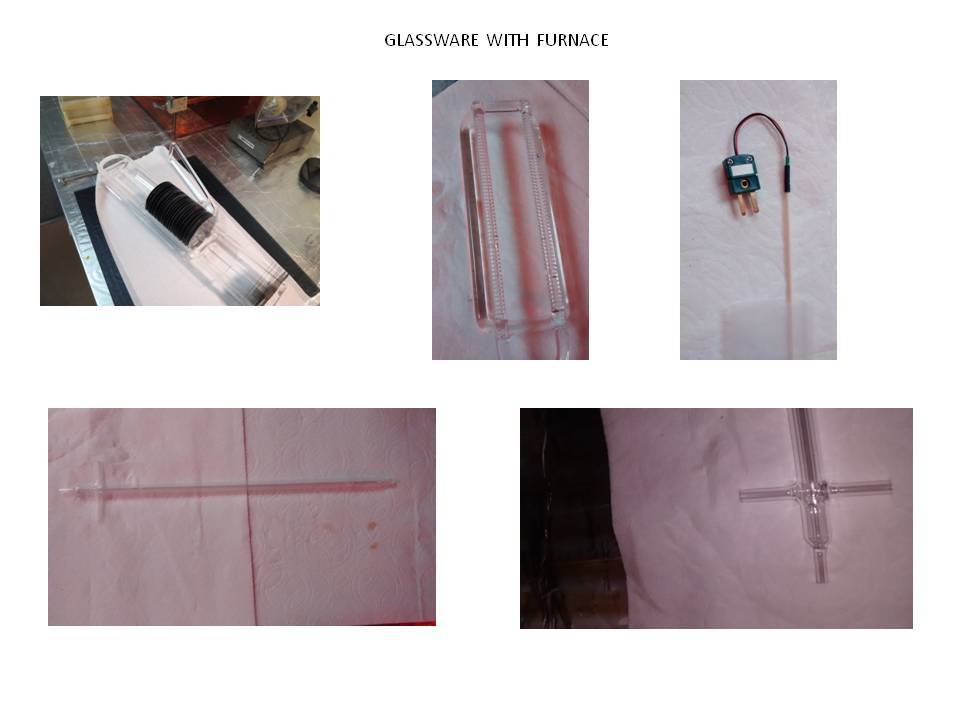 Manuals for Various Furnace Components